Posted by Kristin
Sometimes thinking is a blessing and sometimes it feels like a curse. Oftentimes, I end up thinking (really stressing) about things I shouldn't. Like getting projects done that no one is demanding to be done except your's truly.
I first shared my thoughts on unfinished-ness here.
Or constantly trying to figure out what to hang above our tv that is the "perfect" art (instead of just deciding to live with a blank space for a bit and see what strikes my fancy).
But every so often, I stumble upon a post that really makes me think. I've shared one of those posts
here
and its not surprising that I recently encountered
this thought-provoking post
by
The Nester
.
The Nester shared her thoughts that were inspired by the book
7: An Experimental Mutiny Against Excess
by Jen Hatmaker. Check out the book trailer below (
via
).
Quite the challenge right? While I can't say that I've read the book (yet), I can see how it certainly has inspired lots of thinking for those who've read it. Like these thoughts below from
The Nester
:

"Is it any wonder that a few years ago I looked around and realized we had closets packed full of thrifted great deals that I didn't have room for and stacks of chairs in our unparkable two car garage–you know, in case we ever moved and might need them in our next house. Oh, how the idea of maybe needing something tangled me up.
I was beginning the early stages of a somewhat organized, really cute, bargain bought hoard. And I'm messy to begin with. I needed to consider my definition of enough.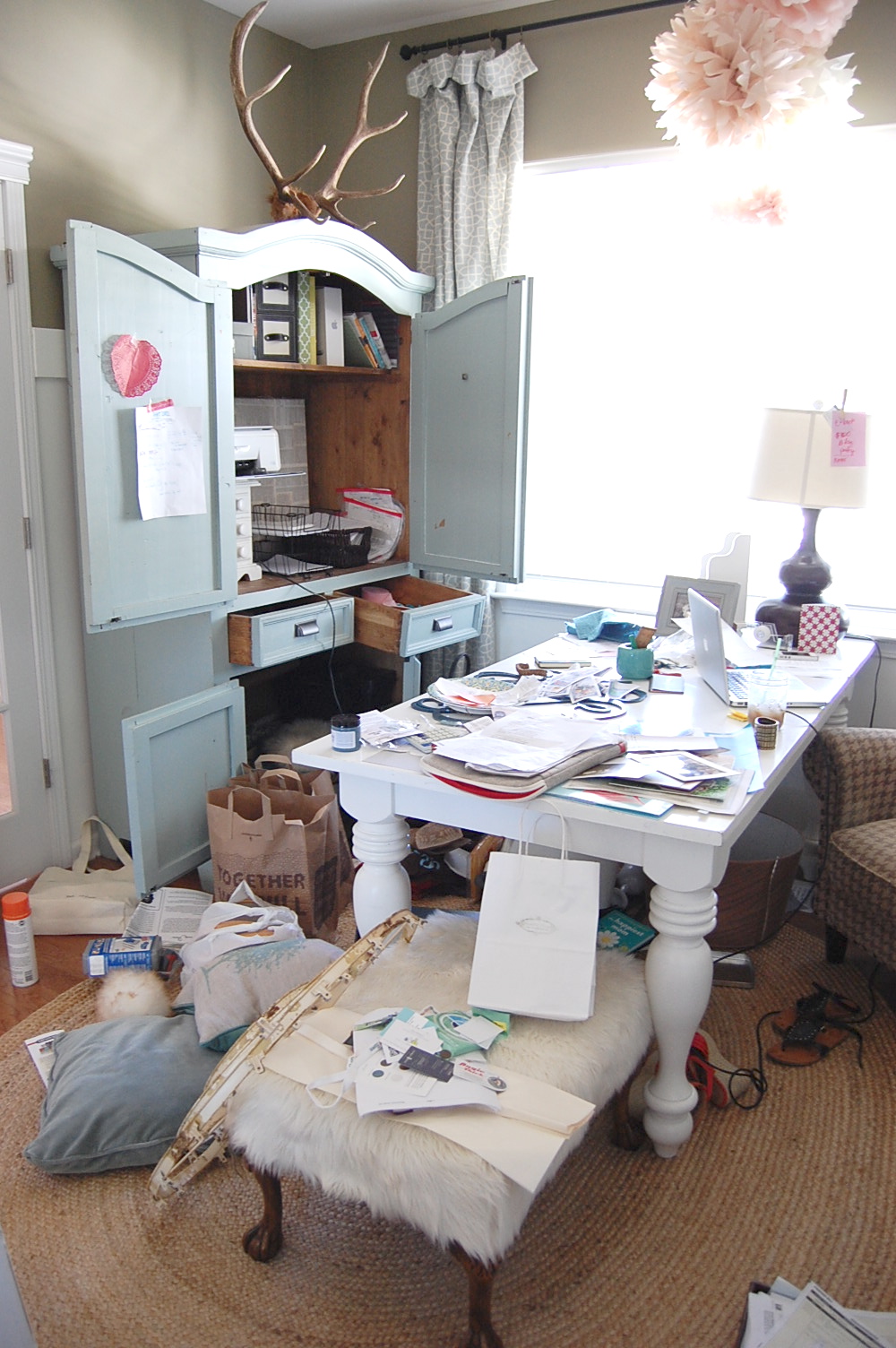 Some of the Nester's "stuff". via.

Slowly, slowly I've removed. I've donated, gifted, sold, thrown away, recycled and given dirty looks to a bunch of stuff, much of it, pretty, bought for a really good price, a steal even. But it was stealing away chunks of my time and home and soul and I was tired of it.

But I'm still me and I still love beauty. I crave beauty. I crave meaning. I believe I was created that way, in the image of my Maker. So how do I balance that? How do I create meaningful beauty and a purposeful home without going overboard, buying because it's a good deal and then having a house filled with cute things I can't even appreciate?

That's what I'm figuring out. I'm in the middle of a contradiction. My job and my gifting are in writing about creating a meaningful home but I don't want to encourage people to think they have to buy a bunch of stuff to create a home they love. Because that's not true."
Read more on The Nester's thoughts in the complete post
here
.
So what does this make me think about? It makes me think about not always doing and sometimes just enjoying what is already done. It makes me want to leave the tv wall blank for a while until I feel inspired (not required) to do something about it. It makes me want to enjoy a sunny morning while glancing over and seeing my hubby sprawled out all over our comfy couch and pillows that I made for that very purpose (I've recently learned that down pillows are THE BEST for husbands that like to beat them to within an inch of their life. Just re-fluff and you're golden).
So today let's just enjoy today and only "do" if we feel inspired to, mkay?